Furniture configurator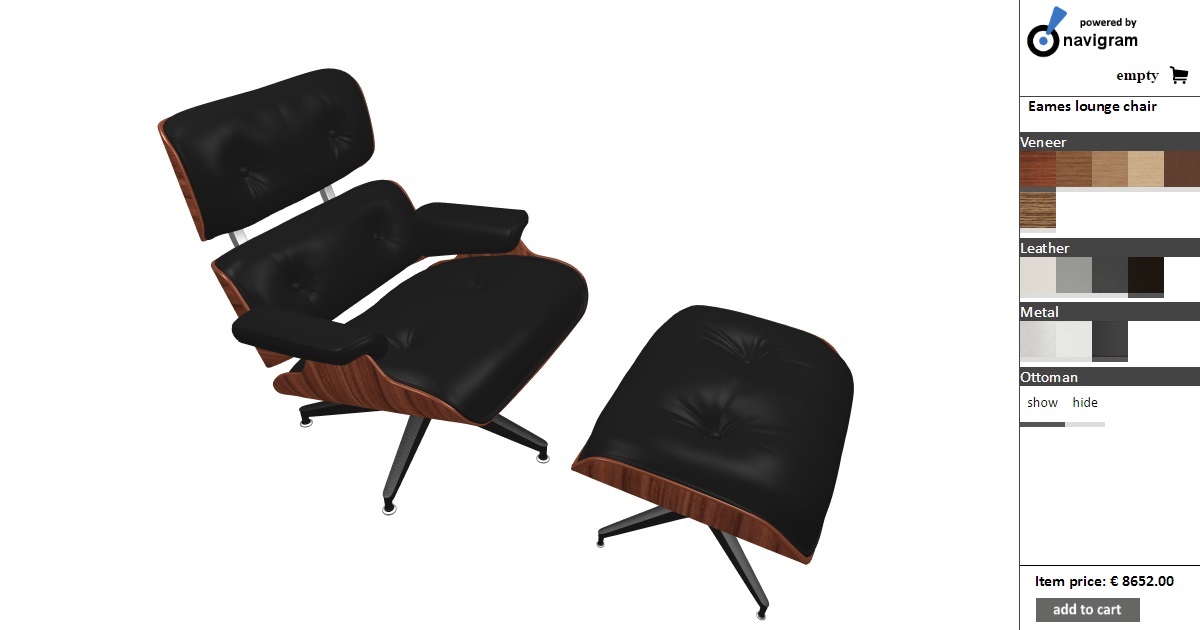 Click here to start the configurator!
Navigram roomplanner
The new Navigram Roomplanner has been released.
From now on everybody can use the new Navigram Roomplanner on the website of
Navigram
.
Design your room, share it with friends and make high-resolution images. And if you want to use your own furniture, Navigram can supply an online tool to upload and maintain your own catalog.
Navigram roomplanner
Soon Navigram will release an online free to use room planner.
Decorate a room and create photo realistic images to show to or share with others. Furniture manufacturers can use Navigram and Configuration Studio technologies to import their own furniture for others to use them.
www.navigram.com
Photo realistic rendering
Configuration Studio and Navigram are showing the first results.
In coöperation with Configuration Studio,
Navigram
is developing the possibility to make photo realistic images directly from a real-time 3D configurator. With one click the user can request a photo realistic image of the current configuration. By sending the request for the heavy calculations to a server, the result is not depending on the power of the user's device. This way you can combine the endless configuring options in real-time with the high resolution images that a powerful server can produce.
3D planner for ABC Display
Product planner for exhibition panels.
This short video shows a 3D space planner with exhibition panels. You can see how dynamic the releationship between 3D objects can be. The user can directly see the result and print a example quotation. This 3D planner is built with the Configuration Studio BLOCKS-system.
Configure your cycling jersey
Product configurator for costumizing your own cycling jersey.
A beautiful project has been added to our
gallery
of live 3D configurators and planners. Within this configurator the user can create his own Cycling Jersey, change the colors, add some text or an image. Another example of the endless possibilities of 3D configurations and customization.
Short presentation about BLOCKS
Short presentation why BLOCKS is the system for building 3D product configurators.
Outside facilities configurator.
A 3D configurator to plan a playground.
On our website gallery we have added a 3D configurator for planning a playground. This configurator is completely built with the BLOCKS-system, no programming needed. We have uploaded the 3D models and added a snap to them. This way the end user can snap the different parts together. We also added a BLOCK for report making and a price list so that you can print a quote from the configuration that you have created.
Couch configurator
Product configurator built with BLOCKS using a costum style.
We have added a new configurator to our website gallery. This is a type of configurator that you can easily build with the BLOCKS-system. Nice touch in this example is that we used a BLOCK that offers the possibility to link your own style sheet to the configurator.
BLOCKS-system released (beta)
Building your own 3D-configurator can start now!
From now on everyone can build and maintain their own 3D-configurators.
Just by uploading their 3D models and connecting them to pre-defined logic, you can build a configurator for your website. Request an account on our homepage.
Configure Price Quote (CPQ)
Also build your configure price quote application with BLOCKS.
Product configurators built with the BLOCKS-system can also be used as a configure price quote application. There is a BLOCK available where you can upload you price list and connect them to 3D models or parts. You can use the standard template and upload your own logo or post the recieve data to your own template. Different price areas or languages within one configurator is as easy as adding a new column to your spreadsheet. If you want to change prices, just upload a new price list.
Roomplanner
Build your own roomplanner with BLOCKS.

The example we added to our website gallery, shows that you can build your own roomplanner with BLOCKS. The BLOCKS-system contains a configurable room that you can add to your project. With BLOCKS for building a catalog you can build your own 3D catalog that the end user can use in the room. Nice touch in this example is that the catalog with couches is 'borrowed' from a different BLOCKS user. You can also share your 3D catalog with other users.
Colorful bike
Configurator with which you can give any part a color.

The example we added to our website gallery, shows that you can color any part with one color menu. The color menu is implemented in BLOCKS by a different user and in this configurator it refers to the first users project. So when the first user changes it, this configurator will be changed automaticly.
Cabinet configurator
New example of a configurator, including social media buttons.
We have added a new nice example of a product configurator to our website gallery.
This example is completely built with the BLOCKS-system, no programming was needed. Every element in the configurator is a predefined BLOCK, even the social-media-buttons. You can just set the default values or upload different images if you prefer.
Kick-off BLOCKS-system (beta)
Beta testers start implementing with the BLOCKS-system.
A specialy selected group of users is starting to build their own 3D-configurators.